After being featured by eBookDaily, Rys Rising: Book I was downloaded hundreds of times. In the past 24 hours, the free Kindle fantasy has been snapped up by 742 readers. As of this moment, it is ranked #7 in Epic Fantasy at the Kindle store.
I'm not sure what I did to earn a feature at eBookDaily, but I'm grateful for the attention. I've been an indie author for a long time, and I'm far past chasing every feature-my-ebook website for features and listings. I stopped making time to pursue those marketing opportunities because they did not seem to be producing sufficient results to justify the effort.
Somehow though, this out-of-the-blue free feature from eBookDaily has delivered results to me that are quite dazzling. Thank you!
It would be nice to think that achieving this visibility will give my ebook a chance to linger high on the Kindle charts, but I've been here before. Rys Rising has broken into the charts many times, even garnering 1000s of downloads, but at some point Amazon will end the party. It will cease price matching for half a day or maybe a day or two despite the fact that the ebook is permanently free at all outlets. The result will be that Rys Rising loses its status and tumbles back into obscurity.
But my novels are there to always rise again. I can hope that the few who came across the free Kindle download this time around enjoy reading it. A few of them will go on to buy more of my novels, and I'll have a small dose of satisfaction as an author.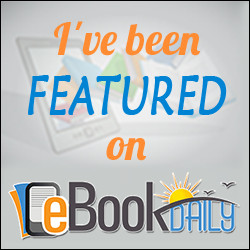 Subscribe to my newsletter for author news & discounts